Intercontinental New York Times Square
October 1st, 2013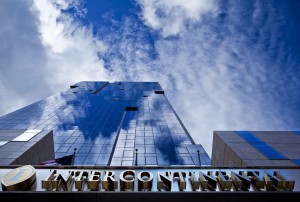 Prior to our Canada/New England Cruise we spent 2 nights at the Amazing Intercontinental New York Times Square. This is a very nice hotel with beautiful rooms and decor. The rooms are a little small but they are very well appointed and the beds extremely comfortable. Adjacent to the lobby is the Todd English Restaurant CaVa and cocktail lounge. This beautiful hotel is walking distance to Times Square, Hell's Kitchen, Broadway, and Restaurant Row.
Our first night we went across the street to Smith's Bar and Restaurant, the food and music were great, I would highly recommend a visit.
Friday morning we walked over to the Grayline hop on/hop off bus station only a few blocks away to enjoy a tour of the city. This is a great way to see everything in a short amount of time, getting off at the stops that are of interest. Our 1st stop was the 9-11 Memorial then on to Battery Park to see the Statue of Liberty. Along the way we visited the Freedom Tower, Empire State Bldg, Macy's, Grand Central Station, Broadway, Times Square, Rockefeller Center, Canal Street, and much more. Aboard the open top bus it was easy to see the sites.
Friday evening we met some NY friends at Guy's American Kitchen for dinner (very good, but a terrible wine list) then a walk thru the theater district to the Rum House for a couple drinks to end a great trip to New York. We missed a couple sights we really wanted to see … next time.
Saturday morning we are up and ready to head to the Brooklyn Pier and the Caribbean Princess for a 7 night cruise of Canada / New England.
I would highly recommend this hotel when visiting New York.