Sandal Emerald Bay Visit
February 18th, 2014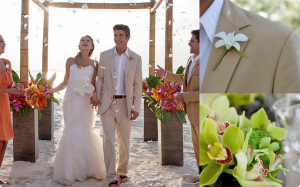 Since my last blog post I had the opportunity to visit the beautiful Sandals Emerald Bay Great Exuma, Bahamas for a Sandals WeddingMoon Retreat. What an awesome experience.
Upon arrival at the Exuma International Airport I was wisked thru customs and into a waiting van with a bottle of ice cold water. The drive was only about 15 minutes to the resort with the driver telling us about what we were seeing as we drove along. Once at the resort I was escorted into the lovely Concierge Lounge and offered a glass of champagne. The room wasn't quite ready so it was off to lunch at Bahama Bay. After lunch I was escorted to my wonderful 1 bedroom butler suite, category W1B0 (Bay House Oceanview One Bedroom Walkout Butler Suite) suite 2140.  I loved this room and its location, two bathrooms and 3 closets just for me.
The 1st evening was a Welcome Party, a Masquerade Cocktail hour. Then a wonderful dinner in La Parisienne .. the food was awesome Escargo, French Onion Soup, and Filet Mignon while the wine flowed like water. The best part it was all inclusive!
Early the following mornig was a refresher class on Sandals WeddingMoons Program, which I feel is the best destination wedding program available, with complementary Wedding Planners, Onsite Wedding Coordinators, and Staff.  The flowers, the cake, the colors, the decor, and best of the location!
We were served a cake and champagne tasting as a bride and groom would get onsite planning their wedding and brand new Red Velvet Cake (since I was there).
A Wedding Inspired lunch was served in La Parisanne, complete with flowers, table arrangements and the Bride's Color Scheme Signature Cocktail just like a Wedding Dinner. It was so beautiful.
Time for a resort tour, all I can say is WOW! What a great place to vacation! Awesome beach, pool, food, service, accomodations. Sandals Emerald Bay has it all. (Read my previous post for more information or call me).
Dinner tonight was in the Italian themed Il Cielo. The food, service, and company was superb. A short stop in the Drunkin Duck Pub after dinner for a little entertainment and off to bed.
For my last day I took the Half Day Ocean Safari Tour set up by Island Routes and Exuma Water Sports.  This power boat ride through some 75 little islands, cays, and coves. I saw blow holes, blue holes, sandbars, celebrity homes, and beautiful ocean vistas. We stopped a a small island and swam with the pigs, yes "swimming pigs", we called it the redneck version of swimming with the dophins.  Then on to another island that was inhabited by iguanas and do they every like grapes. What a fun morning. Lunch and the afternoon were free to do as I pleased, so I chose to sit by the pool and soak up some sun.
Our farewell dinner was a White Affair in Il Cielo Restaurant. The flowers and table decor were what a Bride would get if she chose the "Vision in White" Wedding.  After a lovely dinner, the party moved to the Drunken Duck. All good things must come to an end, so it is off to pack up and head to bed. Early flight tomorrow!

Before I go .. Sandals Emerald Bay is home to a Greg Norman-designed 7,001-yard par 72 championship golf course that rivals any Oceanside course in the world. Ask about golf groups.
To see pictures of this great experience please visit my Pintrest Board: http://www.pinterest.com/wcctjeyman/   and look at my Sandals Emeral Bay pins and my WeddingMoon pins.
Call me for more information and to book this amazing resort.