Sandals Emeral Bay
October 11th, 2013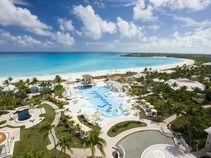 Sandals Emerald Bay:
Location: The Exuma Islands are a chain of 365 Islands and cays that span hundreds of miles of clear blue water. After a short and direct flight from Nassau, Miami, Atlanta, Ft Lauderdale, or Toronto, Great Exuma is an exclusive and undiscovered destination where luxury and pristine tropical beauty frame the Sandals experience unmatched in the The Bahamas.
Resort Description:
Out of  the ordinary luxury comes to the Bahamian out islands with the introduction of a magnificent oceanfront Resort, Sandals Emerald Bay.  Civilized pleasures go hand in hand with exotic adventures.  Partnering classical elegance and sophistication with a sense of tranquility, Sandals Emerald Bay will offer guest an experience that extends hospitality to boundaries never seen before.
Accommodations:
245 rooms & suites, 21 Categories sitting on 50 acres.  Sandals Emerald Bay offers classic contemporary accommodations reflecting magnificent Bahamian architecture.  Best of all, each and every accommodation is either located directly on the beach or just a short stroll away.  This alluring beachfront hideaway includes the low-rise, high style Bay Houses, sumptuously appointed rooms and suites nestled amongst manicured lawns, vibrant bougainvillea and coconut palm trees.  The epitome of island living, the exclusive seaside villas-including the one and only Royal Estate Villa-offer expansive elegantly furnished suites that are located directly on the silky white Emerald Bay beach.  The accommodations at Sandals Emerald Bay are so elevated; they all begin at Club Level.  And nearly half of the resort accommodations include Butler Service.